HUI would like to recognize Fond du Lac's robotics team, Fondy Fire 2194 for an outstanding robotics season. Some of their season highlights include taking first place out of 54 teams at a regional competition earlier this spring and completing their season as semifinalists at the World Championship in St. Louis.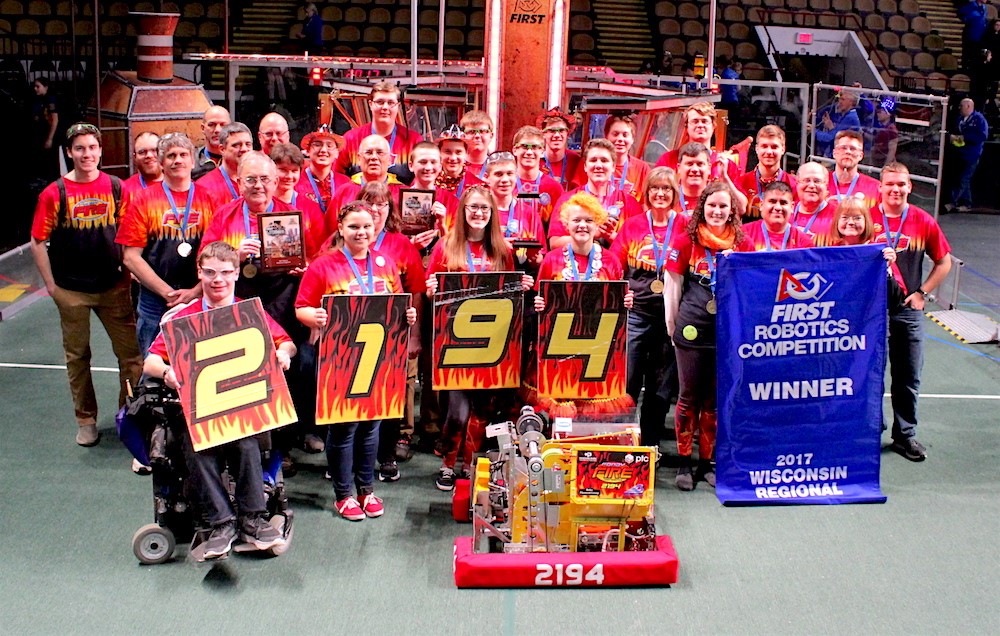 HUI proudly supports and sponsors Fondy Fire by offering materials and use of their facility, machines and computer programs like SolidWorks. HUI design engineer, Alonso Davila, volunteers as a mentor for Fondy Fire.
"It's a good experience," says Davila, who has been a mentor for this robotics team for three years. Under their mentors' supervision, these students have the opportunity to explore various fields of engineering and programming.
Robotics team member, Felicity Barbeau, likes that Fondy Fire gives her the ability to work with different aspects engineering and says "HUI helps us with our robotics goals by helping us think of ideas and designs, which they can fabricate for us in a short period of time. This ultimately allows us to test our ideas through trial and error." Of all these benefits, one of the biggest takeaways is the ability to learn more about the real working world and explore plausible future careers.
"[HUI] has made a huge impact on Robotics! They help us bring our ideas to life," says Fondy Fire student, Isaac Weber. "They helped us learn the process of starting with an idea and created a finished product." Learning opportunities provided by robotics teams like Fondy Fire help students identify what career areas they may want to further explore in college. HUI is proud to have played a role in Fondy Fire's successful robotics season and looks forward to a continued partnership.
To learn more about robotics and Fondy Fire 2194, visit their Facebook page.