HUI Manufacturing gains efficiency with new press brakes
HUI Manufacturing received a long-awaited delivery recently – a new Trumpf TruBend 5130 Press Brake arrived on February 24th. A few months of supply-chain delays set back the original schedule for the new equipment, but staff is happy to report the arrival. The delivery is part of a planned effort by HUI Manufacturing leadership to upgrade key equipment that started back in 2018. Tim Jandrey, HUI's Director of Quality & Regulatory Affairs, says that the need for upgraded press brakes for bending sheet metal was identified over two years ago.
The company has already integrated two of the new model press brakes into their operations in the fall of 2019 and they have been received well by the shop floor personnel. As the company integrates the newest machine delivered in February, they look forward to receiving one additional machine in April of 2022.
The new generation of press brakes purchased by the company has far-reaching benefits. The new machines are much easier to set up and operate than older models. The bends are pre-programmed for each part, reducing the time needed to set up each job. Since HUI Manufacturing caters to short runs for a diverse set of customers, machine setups occur frequently, and the new Trumpf TruBend 5130 models will reduce time needed between jobs. Additionally, the press brakes have many error-proofing features that the team hopes will reduce frustration and quality issues while increasing safety.
HUI Manufacturing's business requires bending a lot of metal for our industrial drive enclosure and medical device cart customers. The nature of the work requires precise bends with tight tolerances, something the new press brakes excel at. The advanced technology has proved to be especially beneficial to maintain accurate tolerances for jobs that require extensive welding and grinding after the metal is bent.
HUI's Director of Operations Mike Schwarz says the new equipment will continue to multiply HUI's capabilities. "We've already seen a marked increase in efficiency through saved material costs with the two Trumpf TruBend 5130 models we added in 2019," Schwarz notes.
"We expect that the two new press brakes we are adding this winter and spring will give us additional material, time, and cost savings as well as helping us manage quality with fewer errors."
One benefit the company has seen so far has been a significant reduction in the time needed to train new employees on the machines. With older-generation models of equipment, it could take as long as several months for a new employee to become proficient as a press brake operator. Now, new folks are feeling confident on the machines sooner with the help of technology that is much more user-friendly and intuitive.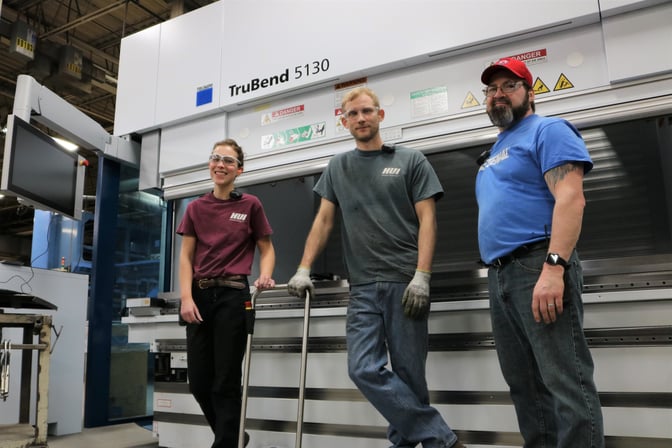 HUI Manufacturing Press Brake Trainers (L-R) Vanessa Niquette, Adam Niquette, and Lee Fritsch pose with the newest addition...
a Trumpf TruBend 5130 press brake which arrived February 24th, 2022.
Since the acquisition of the first two upgraded machines in 2019, HUI Manufacturing training manager Vanessa Niquette has been hard at work updating our press brake training program and writing manuals so operators can hit the ground running.
The training and quality teams at HUI used the equipment upgrade as an opportunity to rethink and revise the company's entire training program for fabrication technicians. All press brake operators went through the revamped training program so they could learn the new machines and gain some experience after the first two were added. Using this time to get everyone familiar with the machines they will soon be using will reduce downtime and will also ensure that operators are up and running right away.
The visual user interface built into the Trumpf machines has proved to be a huge benefit. Niquette notes that the three-dimensional simulation software built into the operator's screen appeals to the visual learner.
"Being able to view and manipulate the drawing has helped new operators to understand bend theory. It makes you feel good as a trainer to see how newer employees are picking things up and growing their skills and confidence."
What is the organization looking forward to most? Niquette says, "There is lots of excitement around this project. We're all looking forward to using this equipment to improve our ability to hit our goals as a team. HUI is a place where people really care about the work we do. Ultimately, these new presses will help us all improve quality, save time, and give new folks a confidence boost. There's a ripple effect – by making this investment, the company will be a better place to work."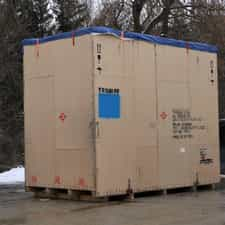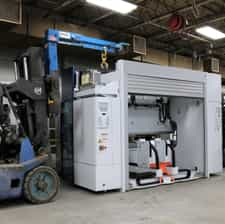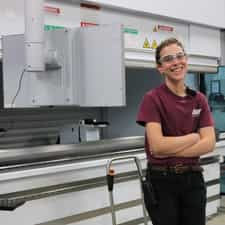 1. Press brake crated in the HUI Manufacturing parking lot... the equipment was shipped from a port in Germany and delayed by supply chain disruptions on its way to Kiel, Wisconsin. 2. United Erecting of Wisconsin was vital to the removal of the old equipment and installation of the new brake in Cell 91 at HUI. 3. Trainer Vanessa Niquette has spent months developing new training for the TruBend models. She reports great success in training new operators on the user-friendly machines.