HUI Manufacturing employees raised over $600 to help support the Calumet County Salvation Army Bread of Life Assistance Center. Over 75 employees participated in a holiday-themed fundraiser between Thanksgiving and the first week of December. Community outreach team member April Wasmer visited the Chilton office of the Salvation Army to hand over the check to assistance center director John Kost.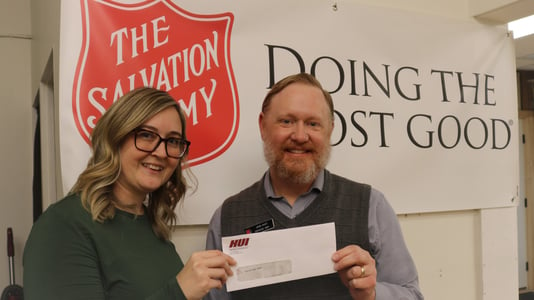 The holidays are the most important fundraising season for the Salvation Army. Director John Kost notes that the funds raised during this time go on to support the center's local initiatives all through the year. The Salvation Army Bread of Life Assistance Center supports all of Calumet County with food pantry distribution, emergency financial assistance, referrals for additional assistance to combat homelessness in addition to seasonal programs such as Coats for Kids, Back to School Supplies, and Christmas toys for families in need.
You can donate to the center through monetary gifts during the seasonal bell ringing campaign, or contact the Calumet County Salvation Army office through their website at: https://centralusa.salvationarmy.org/calumetcounty. Donations of food items are welcome as well as hygiene items such as toilet paper, dish soap, and laundry soap. Kost also notes that there is a continued need for volunteers to organize food pantry distributions and other seasonal campaigns. If you are interested in volunteering, please see the center's website to learn more!
We extend a huge "thank you" to all employees who participated -- your donations will help support local families throughout 2022!