HUI Manufacturing employees came together to raise funds to support the Chilton-based Matt Kolbe foundation's Nennig Park Inclusive-Friendly Playground project.
The Matt Kolbe Memorial Foundation has worked since 2011 to uphold Matt's legacy by supporting various causes and organizations in the Chilton area. These include the Matt Kolbe Memorial Scholarship, The Chilton High School Special Olympics, and the New Hope Day Center. Earlier this year, the foundation announced a new initiative to create an inclusive playground at Nennig Park in Chilton. Inclusive playgrounds allow children with special needs to enjoy playing with their peers in a space made to be safe and accessible for all. The proposed playground will include upgraded inclusive play equipment as well as a special poured-in-place surface that is ADA accessible.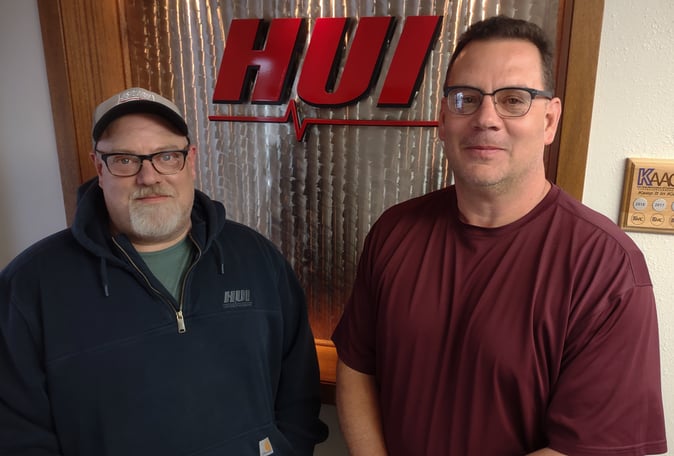 Long-time HUI Manufacturing employee Mike Pickerill (left) was Matt Kolbe's uncle and has been active in fundraising efforts for the
Matt Kolbe Foundation's Inclusive Playground project for Nennig Park in Chilton. He is pictured with HUI Manufacturing CEO and President Kurt Bell (right).
Matt's uncle, longtime HUI Manufacturing employee Mike Pickerill, brought the project to the HUI Community Involvement Team earlier this year. The group was eager to support Mike's family and a great cause, proposing a 50/50 raffle to encourage employees to donate funds. Not to be outdone, HUI Manufacturing CEO Kurt Bell pledged to match any funds raised.
The raffle was promoted as part of HUI's employee Chili Cook Off and St. Paddy's Day party this March. We're grateful to the many employees who tried their luck in the spirit of fun and raising awareness and funds for the playground project. All in all, HUI Manufacturing employees raised $500.00 for the Nennig Park project. With the company's match, the total was brought to $1000.00.
As Matt's uncle, Mike Pickerill felt this project was near and dear to his heart. According to the group, Matt was known as an "inspirational figure in the Chilton community" with a "legacy... of helping and accepting others." Mike echoed those sentiments, expressing that Matt could light up a room and truly put a smile on the face of everyone around him.
To learn more about the Nennig Park Inclusive Playground project and how you can support the Matt Kolbe foundation, see https://mattkolbememorialfund.webs.com or search for "Matt Kolbe Memorial Foundation" on Facebook.