HUI Manufacturing initiative enhances area park with developmental activities for young children
Parents and caregivers of young children are always looking for ways to enhance learning and have fun together. Now, Kiel families will have the opportunity to boost children's literacy and language skills through the Born Learning Trail recently installed at Waack Park in the Rockville Subdivision on the east side of Kiel.​
A partnership through the United Way of Manitowoc County, the trail features interactive stations with tips and tools to engage children in play-based learning activities. The United Way provides Born Learning Trail kits, consisting of a series of signs describing educational games to guide adults and children through the trail. It's up to the sponsoring community to build out additional fun with displays, equipment, or visuals.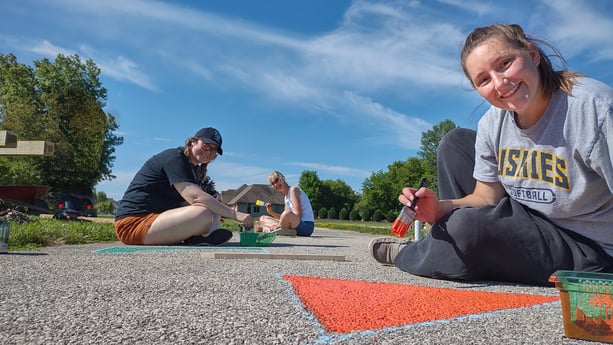 Kiel Community Services Manager and Recreation Director Missy Brandt is enthusiastic about the new addition. She said, "The City of Kiel is very grateful to HUI Manufacturing for taking it upon themselves to design, create and install the new Born Learning Trail at Waack park. This is another great way to enhance a family's visit to the park and the City of Kiel overall. The Born Learning Trail is not something you see in every town, so we know that it will be enjoyed by people not only from Kiel but also in the surrounding areas. We are thankful to HUI Mfg. for giving back to the community, sharing their talents and resources, and for being a great community partner."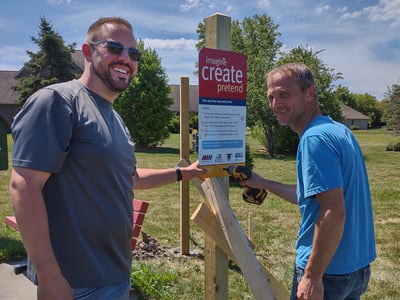 The trail is a community effort led by the Community Involvement Team at HUI Manufacturing. Director of Operations Mike Schwarz, himself a father of young children brought the idea of sponsoring a Born Learning Trail to the table. HUI employees quickly rallied to the cause, bringing creative ideas and know-how to the project. Groups of employees took ownership of each station to bring the ideas provided in the trail kit to life and make hands-on installations for the trail.
The team also reached out to the broader Kiel community to provide input and additional materials. Other partners in this initiative include the City of Kiel, Drexel Building Supply, VanDerVart Concrete, The Kiel Bond Brigade Robotics Team, and the Kiel High School Technical Education Department.
Schwarz notes, "When we brought the idea to the city and the United Way of Manitowoc County team, there was excitement. I'm grateful for the outstanding support we've received from Missy Brandt and the City of Kiel and all of our community partners."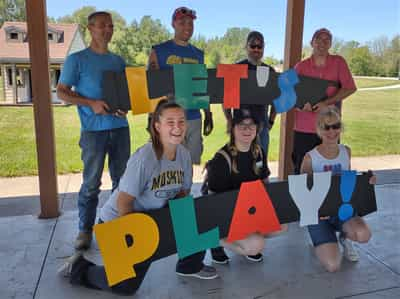 There will be a total of ten stations on the trail in Waack Park. Volunteers from HUI Manufacturing installed five stations in July, with five more to be designed and installed in 2023. The team has been brainstorming new ways to bring parents, caregivers, and kids fun new ways to enjoy learning and growing together.