Getting to know our new cobot
New situations often call for new solutions. The fabrication industry is facing unprecedented times where skilled labor is short, but the complexity of jobs is increasing exponentially. In 2021, HUI Manufacturing began to explore new technologies that could add value to our customers. One option that got attention was the idea of purchasing a welding robot.
Cobot = "Collaborative Robot": a computer-controlled robotic device designed to assist a person.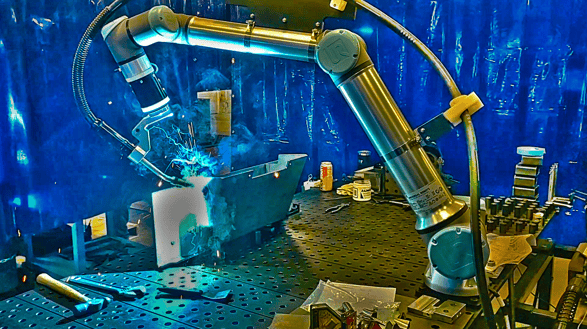 Our partners at AirGas pitched the team on a welding robot from Hirebotics. It "sparked" a lot of interest from our operations team, so we decided to trial a Hirebotics Cobot Welder Package on our shop floor early in January 2022. The package includes the Universal Robots UR10e Collaborative Robot, a Miller Cobot Welding Package, and everything needed to program and operate the robot safely. The ease of use, consistent welds, and time savings potential we found convinced us to go "all-in" and purchase our own cobot to integrate into our operations on the shop floor.
What are the initial impressions from our operators and engineerings?
1. Easy to program… really!
HUI Manufacturing had some experience with earlier versions of robotic welders, but we found that the programming was not intuitive. That was over ten years ago... Hirebotics put a lot of effort into developing a system that requires minimal training and is easily operated, and they definitely delivered!
2. It makes some nice-looking welds.
When programmed correctly, the cobot produces consistent, quality welds on a variety of materials with less spatter. We've found that reduced grinding and finishing is a hidden advantage to using the cobot on many jobs.
3. Customer support makes all the difference.
The app that runs the robot includes a chat feature that allows the operator to get help quickly when programming and troubleshooting. Folks from around the world respond in minutes to questions making it easy to "learn by doing". Not only that, but the support personnel can "see" our programs and settings, so they can spot any easy fixes right away.
4. Find the right "champion"
Upon deciding to move forward with the purchase, we knew we needed someone here at HUI to be the point person to deep dive into the cobot. We realized there would be much to learn about programming, troubleshooting, and making the most of the investment. Several team members vied for the honor of becoming the HUI "Cobot Champion", and we found the right guy for the job in veteran welder Trevor Kollath. Trevor has the right mix of traits and skills that make him perfect for this role: He's an experienced welder who knows our customers' jobs well, he understands our operations and can identify the best jobs to run on the machine, and he isn't afraid to dig into the technology and learn something new.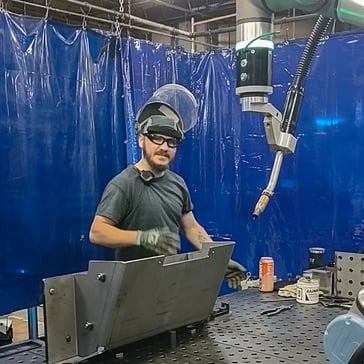 Trevor has been busy working with our operations team, trainers, and engineers to get our robot welding cell up and running. He's been building a "weld library" of programs and settings for our jobs and creating fixtures as well as helping our manufacturing engineers modify our job instructions to make setup seamless. Trevor's experience and know-how have been vital to making sure the programs take into account the material, wire feed rates, voltage, and weld styles required for each product.
We're just beginning our journey, but we look forward to learning and optimizing our processes with our robotic welder. Our team expects to reap many benefits from this adventure that we can pass on to our customers!