HUI has been running parts on our brand new TruMatic 6000 TRUMPF machine over the last year now. This is great news for both our customers and our teammates. With the machine running at full capasity we have seen improvements in production speed, shop floor efficiency, and additional design capabilities.
New TRUMPF Machine at HUI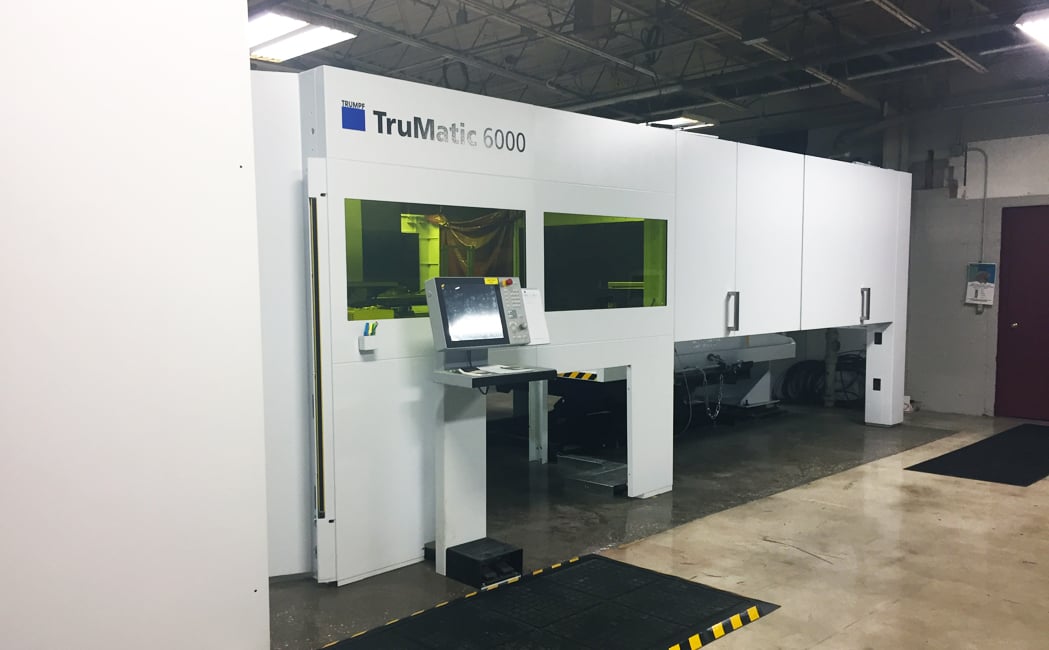 When did we start running the machine?
The first run of 100 parts came off November 15 2018. The formed parts all made it through our inspection process, and we were able to sell them to one of our customers.
What does the machine do?
It allows the users to program the part at a computer screen with software, whereas on the old machines they have to physically take a tool out, adjust it, and measure it when they wanted to set a counter sync. We have more up time on the machine compared to before when the machine had to be down so the user could adjust the tool physically. On the new machine, you can make the adjustment in the software while it's running.
What does the TRUMPF machine do while it's running?
Step 1: Loads raw material
Step 2: Punches and lasers the material
Step 3: Takes finished parts and puts them on a cart
Step 4: Pushes skeleton onto another cart that we can empty with a forklift
What does this machine do differently than our current machines?
We currently have an FMS laser operated machine that you can run online by itself. The FMS machine is going to load and unload raw material and it's going to load and unload finished material while it is still in the cookie sheet. The next level of automation that the TRUMPF machine gives us is that it's going to take that raw material, punch it out, and unload the finished part. We skip that process of the FMS unloading the cookie sheet. The TRUMPF machine unloads the cookie sheet for us and gives us two piles: one of raw finished flat material and one of skeleton material. It's also going to produce a cleaner cut that's twice as fast as our punches and our lasers can do it today, because of the fiber laser on the new punch.
The TRUMPF machine is going to cut our downtime in half and it's going to run faster, so this machine can produce as many parts as two of our Strippits. For example, one of the kits we run today takes us 26 minutes on our current machines. The new machine can run that kit in 14 minutes! It's already almost twice as fast, and we might be able to increase the speed as we learn more about optimizing the machine.
"...One of the kits we run today takes us 26 minutes on our current machines. The new machine can run that kit in 14 minutes!"
Why did HUI get the new TRUMPF machine?
We got the machine for added capacity and option set. It's allowing us to offer an additional feature set for our customers, because there was a need for more intricate designs. Some of our customers need us to run material across a punch-laser combo because of the multiple holes and features that they need from counter-sync extrusion set.
As we continued to grow, we also knew we were going to need more capacity. We don't have room to add 60 additional people, so this machine is projected to get us closer to our production goals without forcing us to create and fill additional positions.
Additionally, it's more efficient from a square foot standpoint. Even though this machine is larger, we are producing more per square foot than we would have with an older machine.
How will the machine improve production?
The main way the TRUMPF machine will improve production is by giving us more capacity. It will give us more efficiency per square footage, so that will improve the quality of our production space. HUI's on-time performance will also improve because of the speed of this machine.
What new capabilities does the machine give HUI?
We will be able to punch shorter formed flanges. In some cases, the machine may eliminate some post processing, or the part might not have to go through a press brake. Because the machine can punch the short flanges, the shop floor also won't have to bend as many products in a press brake.
If we go down the route of getting an off-set wheel, we may be able to put some more intricate designs into a part. This will add more value for aesthetics for both medical and industrial customers. For example, we'll be able to do more feature sets like more extrusions and more flanges.
This machine also uses less electricity, so it's more efficient with our resources as it takes over the work of two Strippits.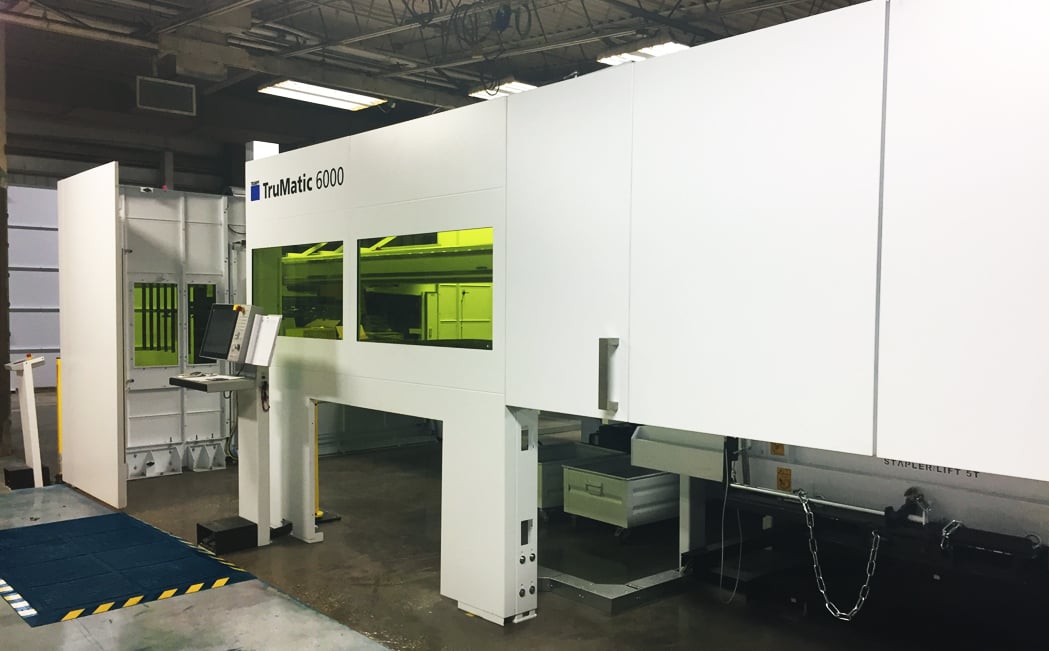 If you are interested in learning more about our TRUMPF machine, or if you'd like to learn more about our contract manufacturing capabilities and expertise, please contact us today.
To get instant updates anytime we have a new blog post, please click here to subscribe to HUI's Industrial Manufacturing Blog.
Learn more about TRUMPF machines & systems.